To answer this question I should first explain what SEO (Search Engine Optimization) is, right?
Long story short, SEO improves the quality and quantity of the traffic coming into your website through organic search.
No traffic- no leads!
No leads – No clients/ customers!
When someone searches for a product or service you offer (we call this a "keyword") a website that has SEO work done on it will appear on the first page and collect most of the traffic. Searchers are most likely to choose the first 5 suggestions shown to them, they don't really search past page 2. If potential clients/ customers can't find your business between other hundreds of businesses like yours in your town sales opportunities are being lost.
See preferred channels in a buyer's journey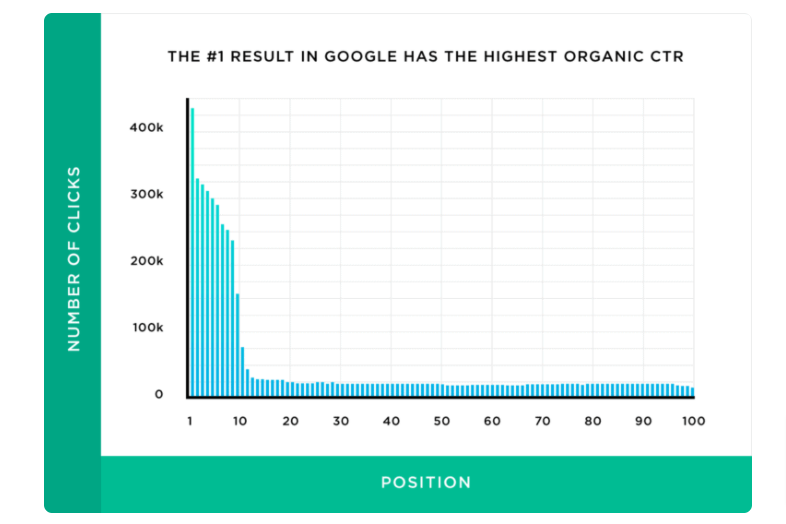 The #1 Result In Google Gets 31.7% of All Clicks. Source: backlinko.com
Whit the help of SEO your website can rank higher in the search results and gain more traffic and leads.
A well-optimized site will clearly communicate what your products or services are, how to reach out to you, and some answers to the most frequent questions they could have. The searcher has to find all this information easily so they can spend as much time as they need on your site and get their answers so they are ready to contact you with any supplemental questions or if they are ready to connect with you. This is called the awareness stage when the future buyer relies on search, they are doing their homework on your website, checking on your reviews and other channels of information to draw a conclusion about your business. If the searcher gets frustrated because they can't find enough information on your site, they will leave your site and find another one that will offer what they are searching for. This is called user experience and it's the ultimate goal of the search engine to serve up sites that can offer a good experience to the searcher. As a result, your site will have to deal with many of their algorithm updates focused on making sure they provide relevant content and a great user experience.
Your site sells your product and services with less work on your part. See preferred channels in a buyer's journey: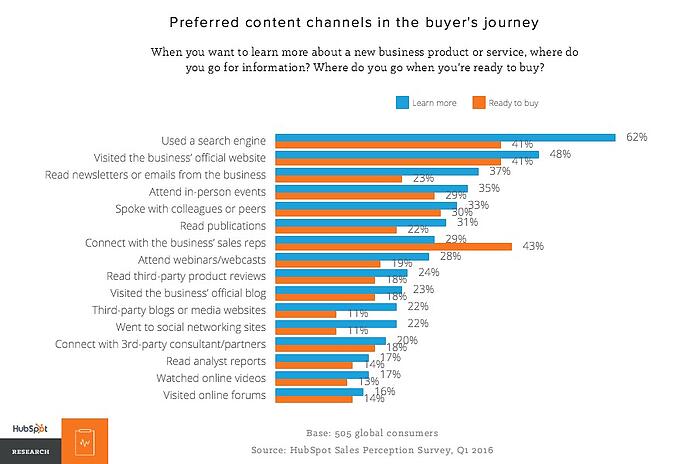 As you can see 62% of people used search engines to learn more about a product or service and most of them visited several websites to learn about that product/ service before buying. So being ranked on the first page is a must because the top 3 google search results get over 75% of all clicks!
A proper SEO makes it easier for the search engines to pull all the necessary information they need to cater to the searchers' needs. If a visitor on your site has difficulties finding information, chances are that the search engines will also have difficulties pulling the information from your site.
Ignite Visibility conducted similar research that backs this data up.
Position 1 – 43.32%
Position 2 – 37.36%
Position 3 –29.90%
Position 4 – 19.38%
Position 5 –10.95%
Position 6 – 10%
Position 7 – 5.28%
Position 8 – 4.13%
Position 9 – 4.13%
Position 10 – 3.11%
There is absolutely no doubt that increasing traffic to your site will increase the leads and ultimately your sales. Now the question is how do you get that traffic to your website.
There are 2 ways that you can attract targeted traffic to your site: ads and organic ranking.
While LeadMode Digital Marketing can help you with both, my opinion is that investing in SEO is a long-term win.
Optimizing a website is a challenging and time-consuming task. It takes a lot of planning and patience to achieve the wanted results, but if you are willing to invest time and money you will definitely see the results down the road.
While SEO is not cheap, you need to consider it as a long-term investment for your business. If done correctly it will make a significant difference. 1 year of SEO can explode your business for years to come!